Spain's trucker strike loses momentum as most transport restored
After 15 days of uninterrupted transport stoppages in Spain that have caused shortages and spurred on other protests, the country's main transport association has reported that activity on Monday returned "practically to normal".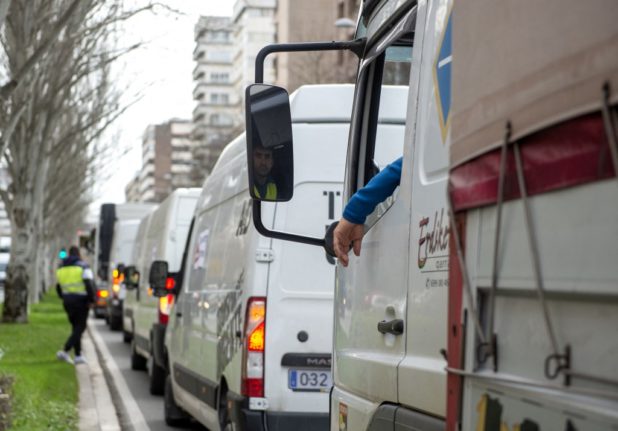 Despite this practical return to normality, some truck drivers in Spain will continue striking. (Photo by ANDER GILLENEA / AFP)
The haulier strike that ground much of Spain's logistical and transport machine to a halt last week appears to be losing steam. 
After the agreement signed by the Spanish Government with the majority of transport associations last Friday, Spain's main haulier associations have spoken of "practical normality" on the roads at the start of this week.
Spain's fishing sector has also resumed economic activities as hauliers once again enter and leave the country's ports.
Spain's Confederation of Freight Transport (CETM), the main transport employee body in the country, has reported that on Monday there were "many more trucks driving" than in the previous days.
Over the past two weeks, Spaniards have watched with concern as a lorry drivers' strike snowballed and then spurred mass protests by farmers and fishermen, industrial production stoppages and taxi driver demonstrations. 
Record inflation levels as a result of Russia's invasion of Ukraine have fuelled growing anger among many Spanish workers as energy and fuel prices have gone through the roof.
Their strike action has had plenty of knock-on effects, from picketing causing traffic jams on Spanish roads to the lack of transport resulting in shortages of fuel, building materials, food products and even the risk of halting tap water dispensation in northern Spain. 
The Spanish government's offer to subsidise up to 20 cents per litre of fuel on Friday March 25th was initially rejected by striking truckers as demonstrators convened in Madrid.
By Monday March 28th, Spanish Prime Minister Pedro Sánchez unveiled a new set of measures aimed at alleviating the economic impact of the Ukraine war on Spain's economy, with benefits for ordinary citizens and further improvements for the transport sector.
Despite this practical return to normality, the National Platform in Defence of Transport – the organisation that called the strikes in the first place – has assured that they will continue with their protests until the Spanish government responds to their demands, namely more subsidies to cover spiralling fuel costs.
Source: https://www.thelocal.es/